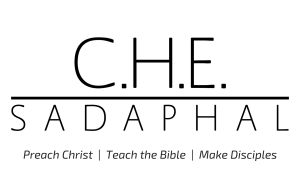 Hello everyone. I'm Elijah. I am a follower of Jesus, husband, and a father of two boys. Welcome to my domain! 
Here's the thing about me: I'm a nerd and always have been. Material things never really excited me, but knowledge does, and life is about the pursuit of greater wisdom and higher understanding. So to me, this is what makes God's Word (the Bible) so amazing—because there is always something new and exciting to learn and digest. I used to be a skeptic (and a pretty hard-headed one) so I never liked superficial answers and can't help but ask critical and probing questions. This posture animates what I do on this site and in all of my writing: proclaim intelligent faith that provides clarity and meaningful answers to those who seek maturity in Christ. I strive to help others by being an agent of empowerment and a catalyst for positive change. This is why I founded the organization What Christians Should Know, which equips believers and empowers them to feel confident about what they believe and why.
How can I help you to better understand the truth of God's Word?

_______
Yes, I am a real board-certified doctor and have been healing in the practice of medicine since 2005. Medicine is my day-job but my true calling is to proclaim the truth in a world that often runs away from it.
Many years ago while working in the ER, someone nudged me to put a fictional idea into words. The end result of that challenge was my first book, Epoch Dawning, a Christian science fiction novel. I discovered a passion and subsequently went on to author seven books including What Christians Should Know vols. I and II, The Power of God's Word and Why Evolution is Not True. I am a featured writer on The Black Conservative and The Living Pulpit, an online magazine dedicated to serving the servants of Jesus. I also contribute to Bold.global, a multimedia news and cultural platform focused on ideals of personal responsibility. I host the podcast series What Christians Should Know (WCSK) and TruthFinder.

Here, on CHESadaphal.com, I write about whatever comes to mind in my Bible study or an analysis of a contemporary issue from the Christian standpoint. I also review the books that I have read. I am a lifetime Mensan and an introvert (INTJ) so I love doing things alone. This helps to explain why I read so much, and some of my favorite authors include Augustine, Reinhold Niebuhr, Dietrich Bonhoeffer, Walter Brueggemann, R.C. Sproul, Ralph Ellison, and C.S. Lewis.
I obtained a bachelor's degree from the University of Pennsylvania in 2001, a M.D. from Drexel U. College of Medicine in 2005, and a Masters of Divinity (M. Div) from New York Theological Seminary in 2017. I became an ordained minister in September 2017. Currently, I am taking preparatory classes in order to apply to the doctorate program at Westminster Theological Seminary (ThM or possibly DMin).