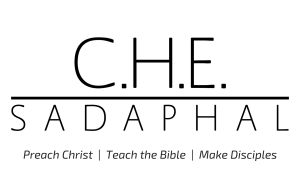 Hello everyone. I'm Elijah. I am a disciple of Jesus, husband, and a father of two boys. Welcome to my domain! 
First, a question: What is my reason why?
I strive to help people better understand the Bible so that they can stand for God's truth.
Merely knowing what the Bible says only requires superficial engagement with the text. Hence, in helping people better understand the Bible, I strive to assist them in putting everything together so that they can join facts and ideas into a comprehensive, interlocking whole. Understanding the Bible is critical because this comprehension is what differentiates the seed of the Word from bearing nothing from bearing fruit. Jesus says in Matthew 18:23, "But the one sown with seed on the good soil, this is the one who hears the word and understands it, who indeed bears fruit and produces, some a hundred, some sixty, and some thirty times as much."
Understanding opens the door of the mind. The Holy Spirit is the agent that subsequently opens the door of the heart and will, plants the seed, and transforms the person from the inside out.
Standing for God's truth separates those who trust and love God from those who don't. After all, what we do the most for—that is our God, for better or for worse. Just look at any example of a genuine person of faith in the Bible: they stood for God's truth when lying down for lies was the path of least resistance. One who is truly convicted by God's truth will not give up on Christ. Standing also means you don't flee because the Lord's armor doesn't cover our backs:
Therefore, put on the full armor of God so that when the day of evil comes, you may be able to stand your ground and, after you have done everything, to stand. Stand firm then, with the belt of truth buckled around your waist, with the breastplate of righteousness in place, and with your feet fitted with the readiness that comes from the gospel of peace. In addition to all this, take up the shield of faith, with which you can extinguish all the flaming arrows of the evil one. Take the helmet of salvation and the sword of the Spirit, which is the word of God. (Ephesians 6:13–17)
How can I help you to better understand God's Truth?

_______
Yes, I am a real board-certified doctor and have been healing in the practice of medicine since 2005. Medicine is my day-job but my true calling stems from my love of the Word and writing.
Many years ago while working in the ER, someone nudged me to put a fictional idea into words. The end result of that challenge was my first book, Epoch Dawning, a Christian science fiction novel. I discovered a passion and subsequently went on to author eight books including What Christians Should Know vols. I and II, Why Evolution is Not True and 40 Days Alone with Jesus. (You can browse my online catalog of books here). I have been a featured writer on a variety of online magazines including The Black Conservative, The Living Pulpit  and Bold.global. I host the podcast series What Christians Should Know (WCSK) and am the founder of WiseWord, a virtual biblical counseling ministry.

Here, on CHESadaphal.com, I used to write about whatever came to mind in my Bible study or analyzed contemporary issues from a biblical perspective. Most of content I create now can be found on WCSK. I am a lifetime Mensan and an introvert (INTJ) so I love doing things independently. This helps to explain why I read so much, and some of my favorite authors include Augustine, C. H. Spurgeon, Dietrich Bonhoeffer, Martin Luther, John Calvin, Jonathan Edwards, C.S. Lewis, Marytn Lloyd-Jones and R.C. Sproul. I write reviews of almost all the new books I read here.
I obtained a bachelor's degree from the University of Pennsylvania in 2001, a M.D. from Drexel U. College of Medicine in 2005, and a Masters of Divinity (M. Div) from New York Theological Seminary in 2017. I was ordained in September 2017. Currently, I am considering another graduate theological degree: either a ThM or a PhD.