"Martha therefore, when she heard that Jesus was coming, went to meet Him, but Mary stayed at the house. Martha then said to Jesus, "Lord, if You had been here, my brother would not have died. Even now I know that whatever You ask of God, God will give You." Jesus said to her, "Your brother will rise again." Martha said to Him, "I know that he will rise again in the resurrection on the last day." Jesus said to her, "I am the resurrection and the life; he who believes in Me will live even if he dies, and everyone who lives and believes in Me will never die. Do you believe this?" (John 11:20–26, NASB)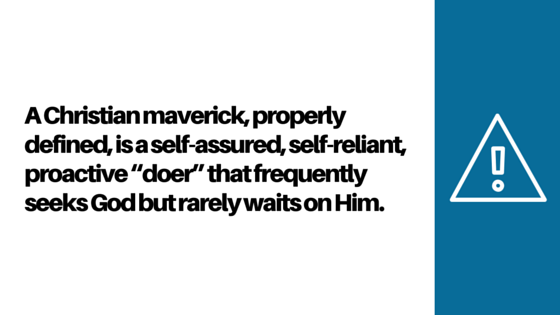 Christian mavericks are able to plan and execute with precision, but in their works, they often fail to listen to what God is trying to tell them. A Christian maverick often lives a life filled with revelations from God but seldom sees those revelations materialize. A Christian maverick is modeled after the character of Martha that we read about in John 11 and Luke 10.
Jesus loved Martha (John 11:5), therefore the two were in a close relationship—hence, this lesson applies to believers and those who are already close to God. Even today, God loves all of His "Marthas," and thus all His elect Christian mavericks. Because God cares for you, He wants the best for you, and part of the reason He is in a relationship with you is because He knows your extraordinary potential and the service you can provide in serving His divine will. Accordingly, the delay in Martha's breakthrough is Martha because the current version of her has not yet developed the character required to receive divine fulfillment. Ultimately, I am qualified to write about the Christian maverick because I am a Christian maverick.
In the passage above from John 11, Jesus arrives in the town of Bethany after He receives word that one of His good friends, Lazarus, is sick. Jesus is called when Lazarus is ill but He arrives after Lazarus has passed away. Martha is the sister of Lazarus, and in the conversation she has with Jesus, three specific areas that Jesus is trying to draw to her attention are revealed to the reader: her faith, her focus and her finish. These three areas represent the barriers standing between Martha going from good to great.
The Christian maverick has an issue with faith.
The first thing to notice is that Martha goes out to meet Jesus. She needs no invitation and actively seeks Him the moment she hears that He is close. Martha's sister, Mary, on the other hand, is so paralyzed with grief that she is unable to leave the house. In the verses that follow, we learn that Mary was an emotional wreck that fell at Jesus's feet and could only cry. The Bible never mentions once that Martha weeps. She simply sees a problem and a logical, rational solution to that problem: Jesus. Why let the heart mourn when the mind can take action?
When Martha approaches Jesus, she calls Him Lord, a title of honor, and says, "If You had been here, my brother would not have died. Even now I know that whatever You ask of God, God will give You." The implication in the last sentence is that there is an expectation of action, but there is also an exclusive expectation of God. In other words, now that Jesus has arrived, Martha can sit back and let Him do what He wills. She has taken herself out of the equation in the name of piety. Jesus responds not by acting but by making a revelation: "Your brother will rise again." Martha responds by saying, "Yes, he will… but not now… on the last day." Martha believes in an event: a resurrection on the last day. She believes that things will change then and it will be a one-time universal occurrence in the future. Consequently, there is no hope for now because the event hasn't happened yet. Jesus's response is that the resurrection is a person. He says, "I am the resurrection and the life… Do you believe this?"
This is the central question that God has for Martha: "Do you believe that I am the solution, that I am the answer?" Of course, this is a question of faith because Martha believes (in something, or an event), she just doesn't believe Jesus (in Someone, or a person). An event is highly impersonal and fixed in time. A person is communicable and can always change things. A person can be patient, can help you persistently grow, and allows room for error. Above all else, an event can be missed, and if you're not invited there is no hope. Jesus can show love and reveal to Martha that although she sets the bar high, leading to frustration, He sets the bar so that He can always show grace and mercy—mercy that Martha rarely shows herself or others. Having faith in Christ means that everything is always possible, and existence is never limited by what Martha can do (faith in the self). Believing Jesus means the answer is right there in front of her, talking to her, and speaking to her face-to-face. This leads me to my second point: the issue of focus.
The Christian maverick has an issue with focus.
Misdirected faith leads to misdirected focus. Consider that God never stops being God, but if you can't see Him as God, then He is of no value to you. Martha's issue was that even though God was talking to her, she didn't see Him as God. Because her focus was somewhere else, she had a hard time seeing that the solution to her problems was making His presence known. She heard His words but didn't focus on them. In other words, she wasn't listening.
Part of the insight into this dynamic is that the name Martha, (mahr'thuh) in Aramaic, is the feminine version of the word Lord.* So when Martha's "Lord" goes up against The Lord, of course she has a psychological struggle because her version of Lord tends to win. Her focus was on her own understanding and comprehension of matters, thus blinding her to what truly was. Furthermore, the idea that all would be raised on the last day was a proclamation of the Jewish faith (specifically Phariseeism). Martha's focus on an idea kept her focus away from Jesus. Similarly, today, we may focus on an ideology, job, seminar, institution, or thing as the be-all and end-all fix to our predicament, but this misdirects our focus from what truly matters: Jesus.
The Christian maverick has an issue with finish.
Notice that in the exchange in John 11, Martha initiates the conversation with Jesus, and she begins with the topic of her brother: "Lord, if You had been here, my brother would not have died." However, Jesus ends the conversation asking Martha a question about herself: "Do you believe this?" Martha's faith and focus places her gaze on the finish, or the decisive solution to the problem. Yet, God knows that in order to finish in a good way, one has to start well. Martha is concerned about results and outcomes while God is concerned about beginnings and process. Gently and subtly, Jesus attempts to direct Martha's attention to herself so that she can begin to work on her. It is only then that she can ultimately finish well and fulfill in her life what God has already spoken. And of course, this has to be the way things play out because if Martha does not pursue a course of introspection, God will essentially fulfill Martha's desires and now her "Lordship" will have more fuel and more resources for misdirected faith, poor focus and a desire for an imprudent finish.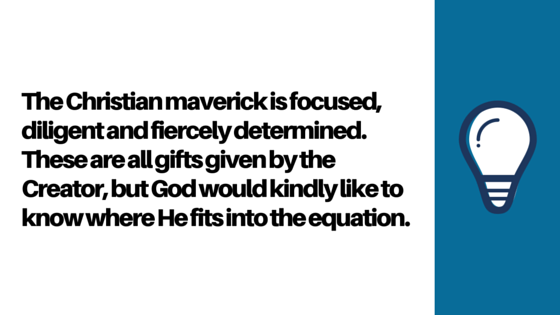 Earnestly answering that question and taking stock of your walk with God is what will take you from ordinary to extraordinary.
Dr. C. H. E. Sadaphal
Did you enjoy that exposition of the Scriptures? Then get more from Dr. Sadaphal here: https://www.amazon.com/C-H-E-Sadaphal/e/B00EAIK8LY
* Paul Achtemeier, ed., The HarperCollins Bible Dictionary (San Francisco: HarperSanFrancisco, 1996), 657.