Hello to all! I'd like to personally thank you for subscribing to CHESadaphal.com and I hope the fresh content delivered to you each week is producing dividends. I am writing today to let you know about my new ebook that has just been released: The Power of God's Word: Practical Wisdom & Life Strategies from Twelve Bible Lessons. Even more, Amazon is promoting The Power of God's Word with a free giveaway!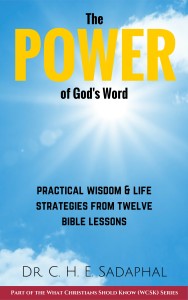 About the book. The Power of God's Word takes Biblical exegesis (drawing meaning out of a Bible passage) to a hands-on level and helps you by giving you practical wisdom and life strategies from twelve Bible lessons. Some valuable insights the book provides include how to live a Christian life in an unchristian world, the anatomy of temptation, the miracle formula, and the power of God's Word to liberate you from harmful thinking and circumstances. At last, you will be able to see how God is speaking to your life and be able to discern His will as it pertains to your day-to-day reality.
About the giveaway. You can enter for a chance to win a copy of The Power of God's Word for free, and your chances of winning are 1 in 10!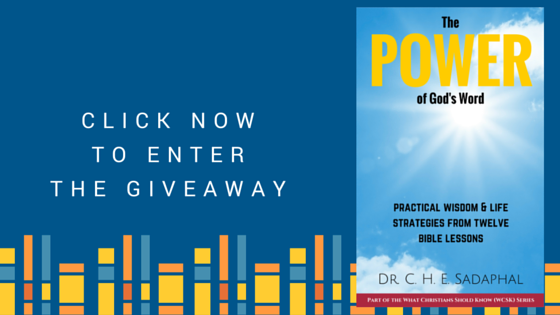 I would like to humbly invite all of my subscribers to get your copy of The Power of God's Word today. If you feel as if the content in the book is valuable, then please tell someone about it and review it on Amazon and/or Smashwords.
The weeks ahead will be very exciting. By the end of next month, What Christians Should Know Volume II: How you can apply Biblical principles to everyday life will be published. Also be on the lookout for the new podcast called TruthFinder: Crucial answers to critical questions about belief.
Happy reading and my best wishes to all.
Dr. C. H. E. Sadaphal